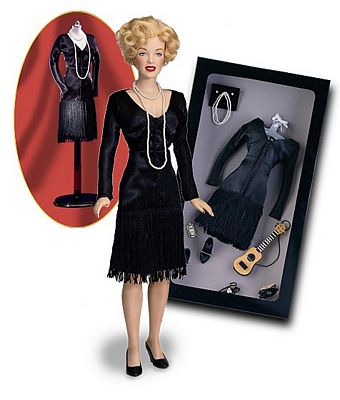 The movie "Some Like It Hot" is considered by some to be one of the funniest films of all time. That's in no small part due to Marilyn Monroe's™ formidable talents as a comedienne. Now the costume Marilyn™ wore in her sweet and sassy role as Sugar Kane is re-created in authentic detail. The fringed black charmeuse dress, the faux pearl necklace, even her garters and flask are all here. And of course, the costume would not be complete without Sugar's treasured ukulele.
Additional Details
Re-creating the striking black charmeuse fringed dress Marilyn wore in her role as Sugar Kane.
Authorized and authenticated by The Estate of Marilyn Monroe and Metro-Goldwyn-Mayer.
Complete with faux pearl necklace and matching earrings.
Accessorized with black pumps, garters, "flask" and ukulele.
Recapture the magic of Marilyn in one of her most charming roles!



Size: Created to be worn by the vinyl doll that is approximately 16 1/2 inches in height.


Made by:

The Franklin Mint