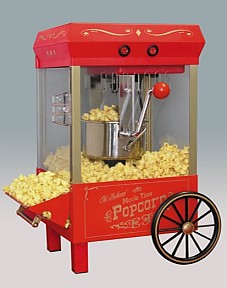 A tabletop sized popcorn cart that makes delicious old fashioned movie house popcorn. The design is nostalgic but the features are very modern.
Tempered window.
Large stainless steel kettle with built in stirring system.
Warming light.
Kernel catcher.
2 oz Kettle
Safety Electrics and easy to clean design.
Popcorn never tasted so good at home.
Makes up to 1 Gallon of popcorn per batch.



Size: 12-1/2 x 10-1/2 x 19 Inches


Made by:

Nostalgia Electrics